DHRD Contact:
Iraq –Kordostan
Sulaimanya – behind ministry of health
Home page: www.dhrd.org
Emails : or
Mobile: 0096-47701526114 or 0096-47701551696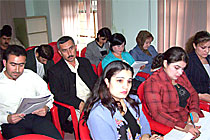 Foto: Judicial staff of Sulaimanyah court in the project of implementing a new course for judicial administrative employee which funded by NPA and UNDP. This project started at 1/4/2005 until 1/7/2005, participated by "30" employees.
DHRD main goals
• Develop the principles of civil society and equality under the laws.
• Verbalizing the general opinion in order to change the laws on a manner witch is suitable with the principles of the human rights.
• Observe the foundation of power division and to censorship independency of the courts.
• Compensate the victims of the wrong laws.
---

Webwork by Jenero.net